1.Supporting the children's daily lives: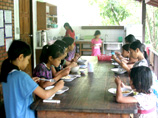 Providing support to the children by offering healthy and nutritious meals, as well as making sure children take their anti-viral medication.
We also provide financial and non-financial support to the children who have left Ban Rom Sai. Under Thai law, children over the age of 18 are required to leave the orphanage.
We, as their family, continue to financially support them until they are able to finish their education. Our doors are also always open, so that children feel free to return to Ban Rom Sai whenever they want or when they are facing difficulties.
2.Help children lead independent lives: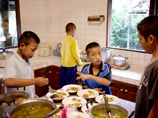 Helping the children learn and develop skills so that they can become financially independent, despite of persistent social discrimination and side-effects from the anti-viral drugs is an important goal for us. This includes developing projects, such as the Hoshihana Village Guest House and a small farm on the premises of Ban Rom Sai, to create job opportunities for some of the children. Those children interested in learning weaving and sewing techniques, can also train at our sewing house.
3.Raise awareness and understanding of AIDS: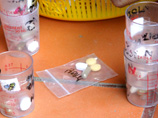 Ban Rom Sai is working hard to raise awareness of local people regarding HIV, as well as health care in general. This will hopefully go towards eliminating prejudice against those with HIV and help our children better integrate into society.
4.Support local villagers:
Ban Rom Sai is also devoted to supporting the surrounding community.
We accept and support children who cannot live with their parents for various reasons.
We employ and train the villagers who are socially vulnerable. (e.g. women affected by HIV, ethnic minorities or the impoverished.)
We financially support 30 to 40 children per year who cannot afford to attend school.
We support children who live an unstable life due to poverty or are refugees, by inviting them to sporting events and camping trips.
We support the hill tribes in northern Thailand by providing essential supplies, when necessary.
5.Independence Project:
In the long-term, Ban Rom Sai is eager to become independent and reduce its reliance on donations. Several projects have been launched to reach this goal. But we still require help and support to successfully develop these projects and help fund new projects.