Our current& future objectives
Until true independence - continuous support and launching "Organic farm" project

Thanks to anti-viral therapy adopted in 2002,children are growing up healthy, but they must all take anti-viral medications on a daily basis and will continue to have to take these drugs for the rest of their lives, and fight against prejudice. Some children will grow up and become productive members of society, while some children will never be able to leave Ban Rom Sai. For those children, we want to create opportunities for them at Ban Rom Sai, so that they may earn a living, without having to leave the orphanage. Therefore, in addition to the current sewing room and guest house, we are trying to launch the 'Organic farm Project'. Through this project, we hope that our children can learn about natural farming methods, as well as making it a long-term employment option for some of the children. Please consider supporting this project.
Organic farm Project
In December 2010, we began a small vegetable patch to supply organically grown vegetables to Ban Rom Sai, as well as the Hoshihana Village Guest House. We currently grow a small number of vegetables and are through trial-and-error, but we look to expand this project in the long-term. We want to utilize this project as a training ground and future source of income for those children that will have difficulty finding employment outside Ban Rom Sai and for those that show interest in organic farming.
For a better society without discrimination and prejudice against those with HIV/AIDS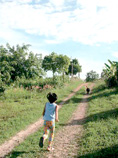 During the first several years after the establishment of Ban Rom Sai, we were protested by local villagers, who barred our children to go to the local elementary school. They also forbade the local children to come close to Ban Rom Sai. But with our efforts to educate and deepen the local people's understanding regarding HIV/AIDS, through lectures and open days at Ban Rom Sai, we have won the support and trust of the villagers. Today, the same local children, who were afraid to set food in Ban Rom Sai, now come visit the children at Ban Rom Sai, study and play together, even sharing lunches together. This has been a big step for Ban Rom Sai.
However, discrimination and prejudice in Thai society still exists as a whole, against those with HIV. Ban Rom Sai wants to continue to work hard to eliminate these prejudices and misunderstandings.
For a better environment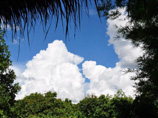 From the beginning, Ban Rom Sai adopted composting, to recycle raw garbage and to use it as fertilizer. In 2010, we launched the 'No Garbage Project', to work with local villagers on separating garbage and trying to recycle as much of the garbage as possible. This is part of our community work, to help the environment, help general hygiene and raise awareness about recycling.
Youth Project
The 'Organic farm Project' and 'No Garbage Project' are part of our overall 'Youth Project'. This project was launched for the children of Ban Rom Sai, as well as local children, to help each other to learn the importance of protecting the environment. Through these projects, we hope to teach the children the importance of their efforts, to protect the environment for generations to come.