Visiting Ban Rom Sai
If you would like to visit Ban Rom Sai...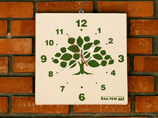 Ban Rom Sai has its doors open to the public, in an effort to increase awareness regarding children with HIV in Thailand. We would like visitors to keep in mind that Ban Rom Sai is a home to the children and we only allow visitors on a pre-arranged basis, to limit disruption to the daily routine of the children. Because of this, we would appreciate your understanding that sometimes it may not be possible to visit the home.
Notice
If you would like to visit Ban Rom Sai, please make sure to apply for visitation before you come. It is not possible to visit Ban Rom Sai on a drop-in or ad hoc basis. Please respect this rule.
In some cases, it may not be possible to visit with the children, since they have school or after-school activities or field trips.
Visitors must seek prior permission for taking photos or video at Ban Rom Sai. Some of the children have weakened immune systems and therefore it is easy for them to contract various illnesses. If you fall ill prior to visiting Ban Rom Sai, please respect the health of these children and let us know in advance. We may, in severe cases, have to re-schedule your visit. Please be advised that we may ask you to wear a mask during the visit. Please ask your taxi or tuk tuk driver to wait for you outside of the Ban Rom Sai gate, when you come for your visit.
Do not have them drive into the compound and wait for you there. In the past, we have unfortunately had, some bad experiences with drivers.
Some have "interrogated" the children or staff and made inappropriate comments, hurting their feelings.
Thank you for your cooperation.
Applying for Visitation
Visitation can be arranged on weekdays (Monday through Friday) by appointment.
Please email us the following information.
Your name, address, phone number and e-mail address
Name of your Company/School
Desired date and time for visitation
A complete list of all the visitor's names
Reachable phone number on the day before the visitation
Email:
visitation@banromsai.jp
Visiting Ban Rom Sai for Media Coverage
Please contact us via e-mail for media contact details.
Map to Ban Rom Sai
Download a map