About Ban Rom Sai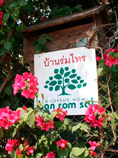 Ban Rom Sai is an orphanage for children, who have lost their parents to due AIDS or have contracted HIV from a parent.
The orphanage was established in a suburb of Chiang Mai, in northern Thailand, in December 1999. This was made possible thanks to a generous grant from Giorgio Armani Japan, the Japanese subsidiary of the Italian clothing conglomerate. Today, Ban Rom Sai is home to 30 children, between the ages of 2 to 17 (in 2013).
From the get go, we did not want Ban Rom Sai to be just an orphanage, but instead a 'big family' for the children who call it their home. Therefore, we have run the orphanage with a system in mind for the children to enjoy a healthy and balanced lifestyle, rather than making decisions that would simply make it easier to run the orphanage. This has so far been made possible by the commitment from our Thai staff and many Japanese volunteers.
By using a system of trial and error, working closely with the children, we are now welcoming the 14th year since establishment.
Ban Rom Sai is set in a spacious and green property, with plenty of space for the children to play. We work hard to create a clean and hygienic environment for the children, as well as provide nutritiously well-balanced meals.
The children are actively involved in discussing and making decisions about their lives.
Sadly, the first three years of operations were focused around fighting death. Ban Rom Sai lost ten children during this time, who developed full-blown AIDS. Back then, anti-viral drugs were not available and none had been developed for children. However, thanks to the continued support from many people and new anti-viral HIV therapies, it has been possible to suppress onsets of AIDS and the children are growing up quickly and are healthy! Since October 2002, we have not had a single death at Ban Rom Sai.
Most of the children at Ban Rom Sai have gone through a lot in their short lives. This includes their parents' death, social discrimination and ostracism. However, now they have found a 'home' at Ban Rom Sai and have found some peace of mind here. The 30 children are all individuals, each with their own personalities, hopes and dreams. We want the children to grow up and become active members of society. In this respect, education is important, but we also try to give the children different opportunities and experience new activities. Whether it is painting, ceramics, photography, traditional Thai dance, theatrical performances, cloth dyeing, sewing, swimming, soccer, Aikido or computer programming. There is something for everyone and hopefully one of these skills, coupled with education, will also help them earn a living, when they are grown up.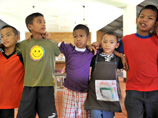 We have also had the bitter experience in the past of children being flunked out of the local elementary school because of prejudices and discrimination against those with HIV/AIDS. This made us realize that educating people about HIV/AIDS was also going to an important role for Ban Rom Sai. With a generous donation from Credit Suisse, we were able to build a library, computer room and activity room. These spaces are actively used to host seminars about HIV/AIDS and educate the local community. It has allowed Ban Rom Sai to integrate into the local community, where previously we had been shunned. Village children now come to use the library to read and borrow books, as well as use the computer room. The children of Ban Rom Sai and village children now play together harmoniously.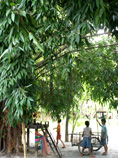 < What is the meaning of Ban Rom Sai? >
Ban Rom Sai is a Thai phrase, which translates as 'under the Banyan Tree' and symbolizes a haven, a safe place. Our logo incorporates the Banyan tree, symbolizing this motto. Our vision and what we want to create for the children is a safe haven and a home.